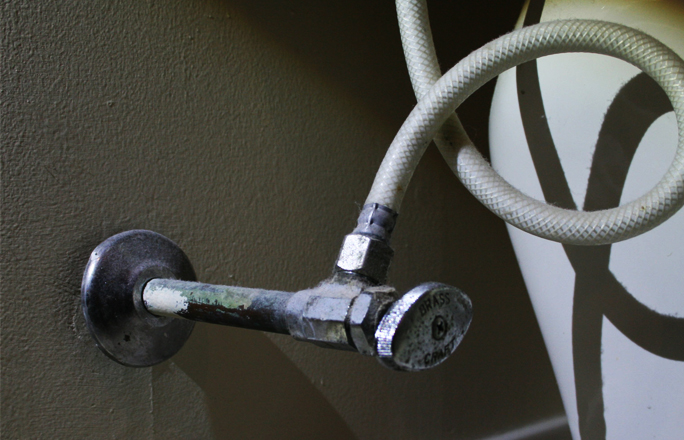 Leaking Toilet Troubles
Leaking Toilet Troubles
Did you know that a standard toilet has five seals with potentials for leaking? In the event of a leak, don't panic! There is something you can do to mitigate water damage while waiting for a licensed plumber to arrive. All toilets have a shut off valve most often with an obvious hand operable knob mounted to the wall behind them. Turn this knob clockwise to stop the flow of water. Note that because these valves often go for years without being used, the integrity of some of their components, such as neoprene washers, can become compromised. As a result of this, a small leak might persist directly from the valve even upon closing it. To avoid this, the working condition of shutoff valves to all toilets, showers and sinks should be checked at least once a year by briefly closing and opening them. As a final line of defense, duct tape can usually contain valve leaks until a licensed plumber with Repairman arrives to fix the problem.
To find an expert plumber in your area, check out the Repairman App today. You can also find the latest news and updates by signing up for our newsletter. And if you are searching for more home improvement topics and tips, you can learn more by reading the rest of our blog.
Download the FREE Repairman app from your favorite app store today and connect with professional service Providers near you!
(Available for iOS and Android)
Repairman App is the newest Colorado platform for on-demand licensed, insured and verified professional plumbing, electrical, heating and cooling (HVAC), window and roofing service, maintenance and repair. Just download the FREE Repairman app using the link on our site or directly from the Google Play Store or Apple App Store.
All our Plumbers, Electricians, HVAC, Window and Roofing Pro's are licensed, insured and background checked by us for your peace of mind and convenience.
Request service now or schedule for later, enter job detail and upload pictures of parts. When your job is accepted, you get real-time notifications, and even get visual ETA as provider's navigates to your location. When connected you can communicate with Providers using secure call and text feature build right into the application.
Once the job is complete, sign-off on the invoice and pay right through the app using major CC or PayPal and go about you life, knowing that you now have your personal repairman dispatch, right in your pocket.