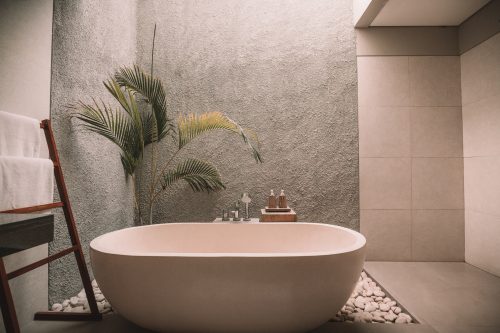 Best Bathtub Materials
Best Bathtub Materials
The right bathtub can add a luxurious touch to your bathroom, or it can be an eyesore that only gets used by Fido after a muddy trip to the dog park. Though we don't give it all that much thought, the largest contributor to how we judge a lovely tub from a gross one is the material it is made out of. Lets discuss the very best tub options out there, because with some varieties weighing in at nearly 1,000 pounds, selecting and installing a new one is no light matter.
Cast Iron with Enamel –  As one of the most durable options, cast iron tubs are made by pouring molten iron into a mold and then coating the iron with enamel. This chip and scratch resistant vessel is considered high end by most, but it can have a price point to match. It can also be quite the task to install because of the weight, and sometimes even requires reinforcement supports underneath.
Acrylic – Reinforced with fiberglass sheets, acrylic tubs are lightweight and affordable. They are also typically available in a wide array of colors. Being non-porous, stains aren't much of an issue, but its softer texture can scratch or discolor overtime, (though the scratches are often reparable).
Porcelain on Steel – Sheets of steel coated in porcelain enamel provide home owners with an inexpensive and durable soaking option. They can still be quite heavy, but this option definitely weighs less than cast iron often while maintaining the same look and feel. Beware, however, this option does chip, and with chips can come rust.
Ceramic Tile – While the flexibility of tiles is vast being that they can be installed to fit most all shapes and crevasses, grout is a known pain to clean. It also leaves you in a bit of a bind when a tile cracks.
Natural Stone – If finished with a gel coating, stone tubs are very durable, and if they do somehow scratch can be buffed back to smooth easily. The wide array of tones they can be found in make them versatile for most bathroom styles, and, as expected, they hold in heat very effectively.
Wood – Though the wow factor of a wood tub is certainly unmatched, so is the cost. They also require proper maintenance to maximize their longevity.
When you do decide what your soaking future holds, the licensed and experienced plumbers at Repairman will be excited to help you with installation. Repairman App is the newest Colorado platform for on-demand licensed, insured and verified professional plumbing, electrical, heating and cooling (HVAC), window and roofing service, maintenance and repair. Just download the FREE Repairman app using the link on our site or directly from the Google Play Store or Apple App Store.
All our Plumbers, Electricians, HVAC, Window and Roofing Pro's are licensed, insured and background checked by us for your peace of mind and convenience.
Request service now or schedule for later, enter job detail and upload pictures of parts. When your job is accepted, you get real-time notifications, and even get visual ETA as provider's navigates to your location. When connected you can communicate with Providers using secure call and text feature build right into the application.
Once the job is complete, sign-off on the invoice and pay right through the app using major CC or PayPal and go about you life, knowing that you now have your personal repairman dispatch, right in your pocket.
To find an expert in your area, check out the Repairman App today. You can also find the latest news and updates by signing up for our newsletter. And if you are searching for more home improvement topics and tips, you can learn more by reading the rest of our blog.
So what are you waiting for? Download the FREE Repairman app from your favorite app store today and connect with professional service Providers near you!
(Available for iOS and Android)