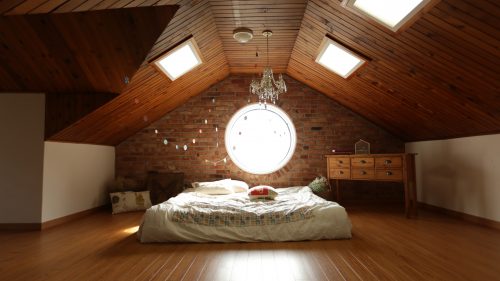 Radiant Heating
Radiant Heating
Radiant heating is luxurious. There's nothing quite like stepping out of bed on a cold morning to have your bare feet greeted by warmth below. It's also a fantastic way to lower heating costs as radiant heating floats up from the floor slowly over time as opposed to hot air being constantly forced into the air and quickly dispersing. At around $5 per square foot, there is a fair upfront cost for installation, but homeowners may find that with toasty floors they feel warmer and therefore don't need to set their thermostat quite so high.  Carpet lovers be aware that radiant heating is much less effective when covered by carpet. If you prefer carpet to hard floors, the bathroom might be your best bet to take advantage of radiant heating.
Installation
There are two main options for radiant heated floors – hydronic and electric. Both are effective, but the price to operate might vary based on energy costs in your area. In terms of installation, there are two very common methods. Wet installation occurs when a home is being initially built and the concrete is being poured. A secondary layer of concrete will be poured on top of the radiant heating wires. Needless to say, this is a very permanent method. If you are attempting to retrofit a new system into an existing house, an exciting new option exists known as dry installation. Wires are custom fit and laid just below any new flooring. This could include stone, tile or wood. It also isn't uncommon to see homeowners opt to lay radiant heating just in certain areas of a room. The benefits of this include lower costs upfront and possibly later on, because flooring will need to be torn up in order to make any repairs to the heating system. Entry ways and spaces in front of vanities are great options for this. 
A licensed electrician will be essential to ensuring your new floors function properly. The talented crew at Repairman will always be happy to oblige! Request a visit, and know you are in good hands!
To find an expert in your area, check out the Repairman App today. You can also find the latest news and updates by signing up for our newsletter. And if you are searching for more home improvement topics and tips, you can learn more by reading the rest of our blog.
Download the FREE Repairman app from your favorite app store today and connect with professional service Providers near you!
(Available for iOS and Android)
Repairman App is the newest Colorado platform for on-demand licensed, insured and verified professional plumbing, electrical, heating and cooling (HVAC), window and roofing service, maintenance and repair. Just download the FREE Repairman app using the link on our site or directly from the Google Play Store or Apple App Store.
All our Plumbers, Electricians, HVAC, Window and Roofing Pro's are licensed, insured and background checked by us for your peace of mind and convenience.
Request service now or schedule for later, enter job detail and upload pictures of parts. When your job is accepted, you get real-time notifications, and even get visual ETA as provider's navigates to your location. When connected you can communicate with Providers using secure call and text feature build right into the application.
Once the job is complete, sign-off on the invoice and pay right through the app using major CC or PayPal and go about you life, knowing that you now have your personal repairman dispatch, right in your pocket.