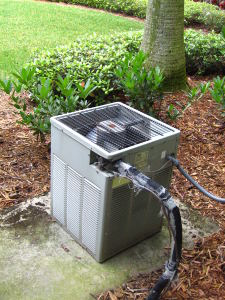 5 Common HVAC Problems That Could Happen To You
Life is good when your HVAC system is working without a hitch. However, for those times when something goes wrong, there's an urgent need to fix the problem right away…especially in this summer heat. With that said, we want to focus on five of the most common HVAC issues that tend to pop for homeowners. Some of these problems can be avoided with a few precautionary measures. Most of these problems will require the help of a qualified HVAC professional.
Your air filter is clogged. This filter should be changed out every month. When dirt and dust build up on the filter, it can drastically reduce the air flow throughout your home.
Your thermostat settings are wrong. If you are having trouble understanding the controls on your thermostat, there's a good chance that your settings are messed up. This can cause your system to run improperly at different times. When it comes to today's digital thermostats, there are several different setting modules that can be implemented. Have an HVAC professional walk you through the settings to make sure your system is running properly all year long.
You have a refrigerant leak. If you notice a lack of cold air in your home, there's a chance that your refrigerant is leaking. An HVAC professional is needed to locate and fix the leak. Never refill your system with refrigerant until you get the location of the leak fixed first. In general, these leaks can be prevented with regular system maintenance check-ups by a qualified HVAC professional. The outside unit should also be examined as well to make sure everything is operating as it should.
Your coils are frozen. This is a very common issue that is the result of an existing problem elsewhere with your system. Frozen coils often occur with refrigerant leaks or air flow problems. So once you figure out what is causing your coils to freeze up, then you can be on your way to a solution for your coils.
Your HVAC system is old and run down. This last issue on our list is more of an overall problem, but it's still an issue that will eventually lead you to trouble. Wear and tear issues from older systems can cause a variety of problems. If you have a system that is ten years or older, you probably have several problems going on. Maintenance and repair costs can add up quickly on these older systems. It's best to bring in a qualified HVAC professional to discuss the possibility of upgrading your HVAC system. In doing so, you will set yourself up for a cost savings down the road with lower energy bills and fewer repair costs.
Always keep in mind, regular maintenance and system check-ups can eliminate a lot of these common issues. Download the FREE Repairman app from your favorite AppStore, or directly from the RepairmanApp website to connect with a qualified HVAC professional. And don't forget to sign up for our newsletter to receive all of the latest news and updates. For more tips on life as a homeowner, check out the rest of our blog.
Download the FREE Repairman app from your favorite app store today and connect with professional service Providers near you!
(Available for iOS and Android)