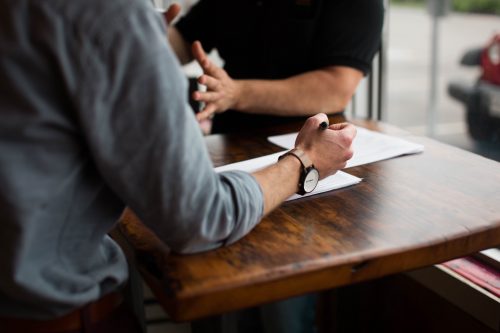 10 Questions to Ask Your Contractor
10 Questions to Ask Your Contractor
Hiring a contractor is a complicated task. Thankfully, at Repairman, we do the hard work of finding licensed, insured and experienced home service pros for you. If you do ever find yourself in need of help that extends beyond the realm of Repairman, it is critical that you ask the questions we do when hiring a provider:
Do you have a license? While this may be something you assume, protect yourself by getting details. Just a business license is not enough to qualify even the most talented tradesmen to work on your home. Also ensure that the license they have applies to the work they are doing. For example, if you allow a licensed plumber to work on electrical and something goes wrong, you could be liable. Ask your contractor where they are licensed, and verify the license. (You can verify Denver contractor licenses here.)
Will you pull necessary permits? If a contractor asks the homeowner to pull permits instead of pulling them personally, it could mean that they aren't licensed to be completing the work covered under the permit. This makes the homeowner liable for anything that goes wrong. Always ask why a contractor is not pulling permits themselves before agreeing to do it for them.
Can I see a certificate of insurance? Find out the details of your contractors insurance plan, and don't just take their word for it. Do they have liability coverage for any accidental damage? (Many Colorado counties have insurance liability minimums for contractors of at least $1 million dollars. See Douglas County's website for an example of this. This also happens to be the current minimum limit required from Providers participating on Repairman platform.) Does their policy also include worker's compensation for if an employee is injured on your property? Are they bonded? Bonding covers poor workmanship that is not usually covered by liability insurance alone. With home values increasing rapidly, is their coverage amount sufficient for the cost of the project they are working on? It is your responsibility as a homeowner to know the answers to these questions.
Do you have any references? Hiring a contractor isn't much different than hiring any other employee. Often times, a reference is a great way to find out how well of a job a contractor does, how easy they are to communicate with and how they respond to criticism. Don't miss the opportunity to get first hand details on the individual you are about to allow into your home. (At Repairman, we background check all of our licensed Providers through Accurate Background to screen for histories of fraud and sex offender registry information.)
How much experience do you have working in this area? A contractor that is new to a region may overlook certain details about a project. For example, plumbing in cold, wet climates may differ than that of warm, dry climates.
Do you have any warranty or guarantee on your work? Most contractors will offer some wort of warranty on the work and materials involved in a job. Ask for a copy of everything included before they get started working.
What is the cost? Is this fixed or estimated? Can you itemize it for me? To avoid your bill being much higher than anticipated, try to eliminate as many unknowns as possible during price estimating. Ask for a price breakdown sheet so that you can have complete transparency between about the job being done. This makes it easier to compare various contractor's pricing and get the best deal.
How long do you estimate the job will take to complete? Though unexpected surprises can pop up, it's good to have a general idea of how long the project should take to complete Getting a few different estimates on timing is a good idea. Don't get caught paying for labor due to a contractor that has poor planning skills or an inexperienced crew.
How have you handled disputes in the past? Trust between you and your contractor is paramount to a satisfaction on both ends at the completion of a job. Issues will likely come up. That is the nature of any creative endeavor. Have reasonable expectations of your contractor and allow them to attempt to solve the issue before allowing a situation to escalate.
Is it acceptable to pay partial dues up front, and the rest upon completion? Be alarmed if a contractor ever asks for a full payment up front. It should be more than reasonable to put half down and pay half upon project completion.
To find an expert in your area, check out the Repairman App today. You can also find the latest news and updates by signing up for our newsletter. And if you are searching for more home improvement topics and tips, you can learn more by reading the rest of our blog.
Download the FREE Repairman app from your favorite app store today and connect with professional service Providers near you!
(Available for iOS and Android)
Repairman App is the newest Colorado platform for on-demand licensed, insured and verified professional plumbing, electrical, heating and cooling (HVAC), window and roofing service, maintenance and repair. Just download the FREE Repairman app using the link on our site or directly from the Google Play Store or Apple App Store.
All our Plumbers, Electricians, HVAC, Window and Roofing Pro's are licensed, insured and background checked by us for your peace of mind and convenience.
Request service now or schedule for later, enter job detail and upload pictures of parts. When your job is accepted, you get real-time notifications, and even get visual ETA as provider's navigates to your location. When connected you can communicate with Providers using secure call and text feature build right into the application.
Once the job is complete, sign-off on the invoice and pay right through the app using major CC or PayPal and go about you life, knowing that you now have your personal repairman dispatch, right in your pocket.