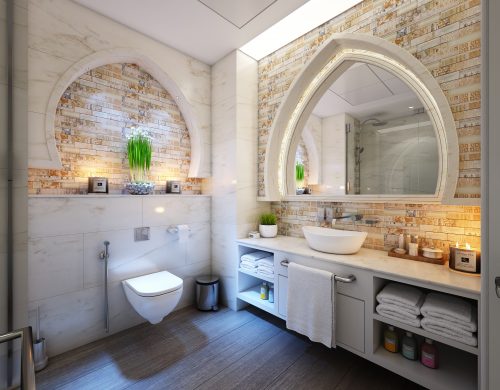 Toilet Upgrade
Flush your way to more money in your pocket and less water waste!
Let's face it, toilets are not the most glamorous of household appliances.They don't keep us cool or wash our dishes. They don't allow us to bake chocolate chip cookies to perfection, and they don't get muddy paw prints out of our favorite sweater. The magical responsibility of the toilet is something most of us would rather not discuss at all.  This is why they consistently come in last when we think about appliance upgrades. Maybe if we knew that, on average, we spend around three months of our lives on these objects, we may feel more inclined to update our old commode!
Start with Size
Round toilets are best for smaller rooms maxing out at 28″ from the wall.
Oblong counterparts are often found to be more comfortable, and max out at slightly larger sizes than round.
Don't forget to consider height. While 14″ bowls are relatively standard, selecting something taller will make it more user friendly, because it will be easier to stand up and sit down. (Small children are the exception to this rule for obvious reasons.)
Style Options
Sleekly designed one piece toilets are more expensive than the ever common two piece units, but they have less seams, and are therefore easier to clean. Take it a step further in the direction of elegance and you can have a wall-mounted toilet installed. Be aware that because of the need to bear weight, not all walls can hold these beauties and maintenance on them sometimes involves opening a wall. They are a dream to clean underneath and around though.
The Flush
In the early 90s and prior, most toilets used just under 4 gallons of water per flush or sometimes more! After US Federal law made new toilets have a mandatory flush amount of 1.6, gallons per flush, people started to save on their water bills, but their toilets often struggled to get the job done. Efficient toilets have come a long way since then, and now most have a dual flush option so that the user can decide when to use more or less water. With these toilets, a family of 4 can save over 2,000 gallons of water per year! There is an upgrade with a big impact.
After deciding on your new toilet, you are going to need an expert to install it correctly. Look no further than the licensed plumbers with Repairman. They'll make sure not to waste your time.
To find an expert in your area, check out the Repairman App today. You can also find the latest news and updates by signing up for our newsletter. And if you are searching for more home improvement topics and tips, you can learn more by reading the rest of our blog.
Download the FREE Repairman app from your favorite app store today and connect with professional service Providers near you!
(Available for iOS and Android)
Repairman App is the newest Colorado platform for on-demand licensed, insured and verified professional plumbing, electrical, heating and cooling (HVAC), window and roofing service, maintenance and repair. Just download the FREE Repairman app using the link on our site or directly from the Google Play Store or Apple App Store.
All our Plumbers, Electricians, HVAC, Window and Roofing Pro's are licensed, insured and background checked by us for your peace of mind and convenience.
Request service now or schedule for later, enter job detail and upload pictures of parts. When your job is accepted, you get real-time notifications, and even get visual ETA as provider's navigates to your location. When connected you can communicate with Providers using secure call and text feature build right into the application.
Once the job is complete, sign-off on the invoice and pay right through the app using major CC or PayPal and go about you life, knowing that you now have your personal repairman dispatch, right in your pocket.