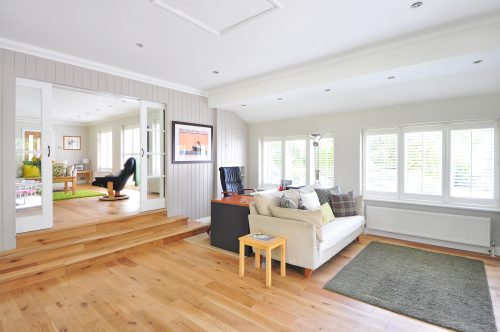 Preparing Your Home for Sale
Preparing Your Home for Sale
Does 2018 hold big changes like relocation for you and your family? If you are planning to put your house on the market in the near future, don't miss out on easily added value a few simple upgrades.
Update faucets and showerheads for a more luxurious feeling bathroom experience.

Lighting is often considered the jewelry of the home. Consider warm and stylish wall mounted lighting instead of tired and intense overhead options.

When upgrading lighting, consider adding dimmers to give added mood to your space.

Replace outdated and wobbly ceiling fans.

Mount wall mirrors in small rooms to make them feel larger.

Replace kitchen & bathroom countertops. Wood and formica offer economical options, but if you are set on granite, consider using granite tiles instead of a one big slab.

Get a garbage disposal. To do this, you will need an outlet and switch nearby, but if you don't have one, the electricians with Repairman will be happy to install one for you!

Remove the outdated popcorn ceiling with a softening solution available at most hardware stores, but remember to have it tested for dangerous asbestos first.

Show off how spacious your home truly iis  by selling or stowing extraneous furniture and clutter.

Hammer in a few well placed nails to eliminate squeaky spots in the floor.

Spruce up the front entryway with a brightly colored door, inviting lighting and some climate appropriate shrubbery.
For all household updates listed above and many more, the licensed experts at Repairman are ready to assist you!
To find an expert in your area, check out the Repairman App today. You can also find the latest news and updates by signing up for our newsletter. And if you are searching for more home improvement topics and tips, you can learn more by reading the rest of our blog.
Download the FREE Repairman app from your favorite app store today and connect with professional service Providers near you!
(Available for iOS and Android)
Repairman App is the newest Colorado platform for on-demand licensed, insured and verified professional plumbing, electrical, heating and cooling (HVAC), window and roofing service, maintenance and repair. Just download the FREE Repairman app using the link on our site or directly from the Google Play Store or Apple App Store.
All our Plumbers, Electricians, HVAC, Window and Roofing Pro's are licensed, insured and background checked by us for your peace of mind and convenience.
Request service now or schedule for later, enter job detail and upload pictures of parts. When your job is accepted, you get real-time notifications, and even get visual ETA as provider's navigates to your location. When connected you can communicate with Providers using secure call and text feature build right into the application.
Once the job is complete, sign-off on the invoice and pay right through the app using major CC or PayPal and go about you life, knowing that you now have your personal repairman dispatch, right in your pocket.