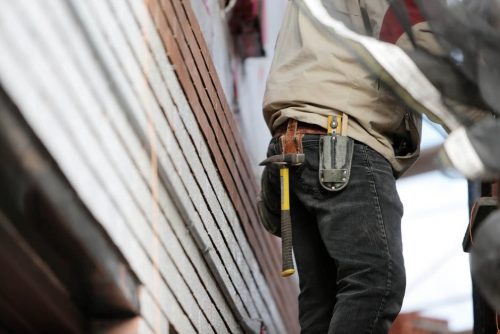 Know when it's Time to Call in the Pro's
Know When It's Time to Call in the Pro's
As homeowners, we tend to think that we can tackle nearly any home improvement project that we come across. It's a specific mindset that is especially prevalent in new homeowners. However, as the years go on and reality sets in on what it takes to properly complete many of these home improvement projects, most of us come to this realization: it pays to use professionals.
Let's take a look at some specific examples of when it's an especially good idea to call in the pros.
Whenever Plumbing and/or Electric Join the Party
If plumbing or electric work are needed with your project, it's always a good idea to bring in a qualified expert. The Repairman app makes it easy for you to track down licensed, insured and background-check professionals in these fields. Plumbing and electric issues can be tricky for those who are untrained. If you don't carry out the job properly, you can cause some serious damage to your home.
For example, let's say you decide to upgrade your bathroom with a few modern touches. This may require new light fixtures, a ceiling fan, a new toilet and a sink. If you do not properly install these items, you could end up with electrical issues that could lead to a fire, or plumbing issues that could lead to water damage. It's well worth getting a professional to do the job right.
Don't Let Important Projects Sit Too Long
There are some problems that pop up in a home that shouldn't be ignored. For example, when it comes to HVAC or window issues, these are pressing concerns that need to be addressed by a professional — especially in this summer heat! Bring out an HVAC professional or a window repair expert to evaluate and fix your problem immediately. When it comes to the comfort of our homes in the summer, there is no time to waste.
Get the Job Done Right the First Time
As mentioned earlier, time is precious to everyone. For this reason, you don't want to continuously repeat home improvement jobs that were never performed properly in the first place. If you find yourself guessing a lot and continually searching for research online, then it's a project that is probably a bit over your head — and that's okay! We can't all be experts at everything. For example, if you notice a leak in your roof, it's best to bring out a roofing professional to get the job done right. You don't want the leak to persist. This can lead to water damage and mold issues.
Download the FREE Repairman app from your favorite AppStore, or directly from the RepairmanApp website to connect with a variety of professional services, including plumbers, electricians, roofing experts, heating and cooling professionals and window service professionals. And don't forget to sign up for our newsletter to receive all of the latest news and updates. For more home improvement project ideas and tips, check out the rest of our blog.
Download the FREE Repairman app from your favorite app store today and connect with professional service Providers near you!
(Available for iOS and Android)