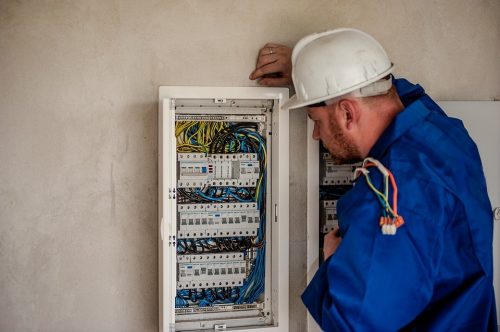 Choosing the Right Electrician
So, you have a home improvement project that requires the expertise of an electrician. Now you might be thinking: how do I pick out the right electrician for the job? Well, there are several factors that should be considered when you hire an electrician to do work in your home. With that said, let's take a look at some of these factors to ensure that you make the right choice.
It's Always Best to use a Qualified Electrician
Let's start out with the benefits of using a qualified, insured electrician. When you use a qualified electrician with the proper liability insurance, the liability of the work that is done does not fall so heavily on the homeowner. On the other hand, if you as the homeowner or an unqualified electrician decide to do the work, and a problem occurs, the liability of the work falls directly on the homeowner. Also important to note: in this scenario, homeowner's insurance will not comply since a qualified electrician did not perform the work. Please keep in mind as you read this article, all of the Repairman App electricians are qualified, insured and background-checked to perform work in your home in the state of Colorado.
What Exactly are the Qualifications of a Qualified Electrician?
For those here in the Colorado area, the Department of Regulatory Agencies (DORA) is the overseer of licensing. At the end of the day, you need to have a Master Electrician (or someone who works under the Master) to do the work in your home. As far as the qualification process goes for electricians: in Colorado, you must first become a Journeyman Electrician before you can become a Master Electrician. When all is said and done, this process takes a little over four years, with experiences varying from electrical construction to the wiring of lights, heat and power, to the planning and supervising of a variety of different types of electrical work. You can learn more about the laws and rules of becoming an electrician here.
Permits are Must-Haves
When you get major electrical work done in your home, you need to get the proper permits to meet local and state requirements. Again, if you are not using a qualified electrician, you will not be able to complete the proper permits. And once again, it bears repeating: if you don't use a qualified electrician with liability insurance, you will not be able to utilize your home insurance if a problem arises. You can learn more about Colorado DORA regulations here.
Safety is a Top Priority
Now that we know a little more about the qualifications that come with licensed electricians, let's shift to safety. Just remember, when dealing with electricity, safety is always the top priority. As a homeowner, you need to be aware of the hazards that come with any electrical project. Poorly installed electrical projects can lead to fires — so needless to say, this is an important matter! When you use a qualified electrician, you are bringing in a professional that will ensure the safety of your home and those who live there.
When you use the free Repairman App, all electricians on our service are qualified to work in your home under the state laws of Colorado. Using the Repairman app takes just seconds to track down a qualified electrician for your next home improvement project. And for the latest news and updates, subscribe to our newsletter today. You can also learn more about a variety of other home improvement topics by reading the rest of our blog.
Download the FREE Repairman app from your favorite app store today and connect with professional service Providers near you!
(Available for iOS and Android)