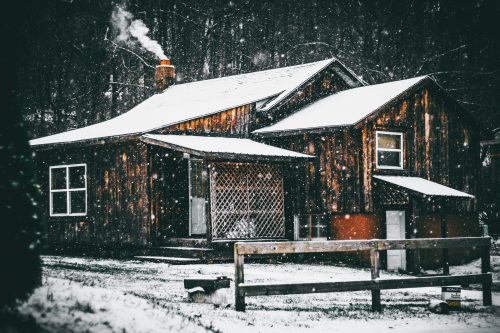 Chimney Troubleshooting
Chimney Troubleshooting
The magic of a wood burning fireplace is unparalleled this time of year. From the smell of freshly spit wood at a slow burn filling the air outside to the vibrant orange glow lighting up your living room, fireplaces bring endless relaxation and cheer. Though we really only see the fireplace itself on a day-to-day basis, we must remember that we owe our toasty tootsies to the chimney as well! To continue enjoying a good roaring fire, we must be mindful of issues that impact chimneys in order to keep them functioning properly. Our safety depends on it!  (Even Santa has knows the importance of a properly working chimney!) 
Chimney blockage. 

You can usually tell if your chimney is blocked because smoke and fumes with begin to fill your space instead of flowing out. With a gas flue, however, dangerous odorless gas could be flowing into your home. (This is what carbon monoxide detectors are for!) Reasons for blockage can vary. Perhaps some feathered or furry friends have decided to make themselves at home. Maybe there is soot buildup, and your chimney needs a good cleaning. It could also be negative pressure pulling smoke into your home instead of out. In any case, a bright flashlight can sometimes determine what the problem is. If you are physically capable of accessing your chimney from the roof, a chimney brush  might be all you need to push the blockage down into the fireplace for a simple cleaning.) 

Chimney Leakage. Water is a fireplace's worst enemy. There are several components of a chimney that could potentially be allowing water to leak in. Most often it is the chimney crown that ends up cracked from exposure to the elements. Installing a chimney cap (bird cage looking device with a lid) is much more cost effective than replacing an entire chimney, so check for cracks in your chimney crown annually and have a chimney cap installed if you don't already.
Cracks in the Flue Lining. A flue lining is defined as "A conduit installed inside of a chimney, intended to contain the combustion products, direct them to the outside atmosphere, and protect the chimney walls from heat and corrosion." Depending upon when your home was built, you may have a ceramic, clay or metal flue. If you have a clay flue lining,  it is possible that it can end up cracking. A crack in the flue lining allows the fire you are burning to reach combustible parts of the chimney. What you end up with could be a dangerous and costly chimney fire.  Checking your flue lining before use each year is paramount to prevention. Many professionals will bring a camera to do this more effectively. If any cracks are discovered, the best thing you can do is upgrade to a more modern metal flue liner.  They come at a higher cost, but are considerably more durable and you will avoid the extravagant repair expenses of a chimney fire.
For chimney advice and so much more, don't forget that the experienced pros at Repairman are here to help. Enjoy your winter season safely!
To find an expert in your area, check out the Repairman App today. You can also find the latest news and updates by signing up for our newsletter. And if you are searching for more home improvement topics and tips, you can learn more by reading the rest of our blog.
Download the FREE Repairman app from your favorite app store today and connect with professional service Providers near you!
(Available for iOS and Android)
Repairman App is the newest Colorado platform for on-demand licensed, insured and verified professional plumbing, electrical, heating and cooling (HVAC), window and roofing service, maintenance and repair. Just download the FREE Repairman app using the link on our site or directly from the Google Play Store or Apple App Store.
All our Plumbers, Electricians, HVAC, Window and Roofing Pro's are licensed, insured and background checked by us for your peace of mind and convenience.
Request service now or schedule for later, enter job detail and upload pictures of parts. When your job is accepted, you get real-time notifications, and even get visual ETA as provider's navigates to your location. When connected you can communicate with Providers using secure call and text feature build right into the application.
Once the job is complete, sign-off on the invoice and pay right through the app using major CC or PayPal and go about you life, knowing that you now have your personal repairman dispatch, right in your pocket.