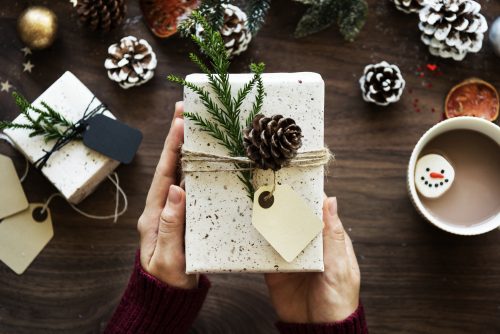 Home Improvement Holiday Gifts Repairman-Style
Home Improvement or Repairs are the Holiday Gifts Repairman-Style
Tis' the season of giving, but that doesn't have to mean spending hours in a mall in search for the perfect scarf, hat or watch that your loved one probably doesn't need. Giving time and effort is usually even more well received. We would like to inspire those of you in a holiday bind with some ideas on less conventional gifts. You can present the gift in the form of a coupon to complete by a designated time, of you can surprise your loved ones by completing them in secret and having a big reveal. The choice is yours!
Repaint a room with stale or undesirable colors.

Install hooks under a kitchen cabinet to hang a beloved mug collection.

Upgrade lightbulbs in the house to energy efficient LEDs. (See this article for more info).

Switch out kitchen or bathroom cabinet fixtures for a fresh look. Install new faucets to take this to the next level!

Hang shelving for cheerful plants and pictures that are cluttering a desk space. This will help add height to any room!

Re-caulk a grimy bathtub or sink.

Hang a rack for pots and pans to free up extra kitchen cabinet space.

Replace old or broken faces on light switches and outlets. 

Detangle that spaghetti pile of chords behind tv and organize it with twist ties.

Fix squeaky door hinges. A simple bar of soap is often enough to do the trick!

Decalcify coffeemakers and water kettles for more efficient appliances.

Replace worn out weather stripping around outside doors.

Refresh your tool box with any needed supplies like nails or tape, and replace any dulling tools. A dull tool is a dangerous tool.

Tighten screws on squeaky furniture

Fix wobbly tables and chairs by applying felt pads to their feet. 
For house hold updates and so much more, don't forget that the experienced pros at Repairman are always here to help. Happy Holidays!
To find an expert in your area, check out the Repairman App today. You can also find the latest news and updates by signing up for our newsletter. And if you are searching for more home improvement topics and tips, you can learn more by reading the rest of our blog.
Download the FREE Repairman app from your favorite app store today and connect with professional service Providers near you!
(Available for iOS and Android)
Repairman App is the newest Colorado platform for on-demand licensed, insured and verified professional plumbing, electrical, heating and cooling (HVAC), window and roofing service, maintenance and repair. Just download the FREE Repairman app using the link on our site or directly from the Google Play Store or Apple App Store.
All our Plumbers, Electricians, HVAC, Window and Roofing Pro's are licensed, insured and background checked by us for your peace of mind and convenience.
Request service now or schedule for later, enter job detail and upload pictures of parts. When your job is accepted, you get real-time notifications, and even get visual ETA as provider's navigates to your location. When connected you can communicate with Providers using secure call and text feature build right into the application.
Once the job is complete, sign-off on the invoice and pay right through the app using major CC or PayPal and go about you life, knowing that you now have your personal repairman dispatch, right in your pocket.