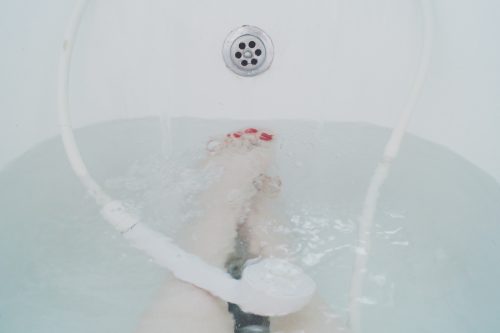 Clogged Bathtub Drains
Clogs, you are free to leave. 
Bathtubs. They are the ultimate source for relaxation! Being versatile enough to shower in, many families opt for this style fixture in their washrooms in order to make everyone happy, Fluffy included. The downfall?  We have all ended up showering in a tub with a little extra speed because, we notice, as soon as we turn on the shower, we begin splashing in rising water! Ick! Though it isn't as obvious as a the kitchen sink or toilet, our tub drains take a lot of abuse with the things we rinse down them. Everything from sugar scrubs, to oatmeal soaps to oil-based hair products can easily add up. When your bathtub drain does start to work in slow motion, before calling in a licensed expert from Repairman, you should first give plunging a good whirl. However, many people aren't aware that bathtubs technically have two drains, so they can be a bit more tricky to plunge. Below are bathtub drain plunging steps to guide you.
Seal the overflow drain. This drain is usually found directly under the faucet on the tub wall. The look like a metal ring with holes more than a drain cover. The purpose of this drain is to catch water that may end up flowing if you forget you have left the tub filling. Because plungers can utilize the power of suction on the tub drain with this drain allowing extra air to the party, you should seal this before giving it a plunge. Duct tape is a simple recommendation to do the trick.

Next, fill your tub with a few inches of hot water to help dissolve the soap-scummy clog.

Get your plunger set so that it makes a seal with the bottom of the tub.

Using a good amount of force, push down and pull up without breaking the seal.  
Hopefully, you will find yourself in luck and the clog will get wiggled enough that it becomes free to flow in its merry way down the pipe and out of your life! In the event that this fails, you may be dealing with something beyond your capacity to fix. Never fear, you have Repairman! Call on a licensed and verified plumber to get the clog out of your hair in a hurry!
To find a plumbing expert in your area, check out the Repairman App today. You can also find the latest news and updates by signing up for our newsletter. And if you are searching for more home improvement topics and tips, you can learn more by reading the rest of our blog.
Download the FREE Repairman app from your favorite app store today and connect with professional service Providers near you!
(Available for iOS and Android)
Repairman App is the newest Colorado platform for on-demand licensed, insured and verified professional plumbing, electrical, heating and cooling (HVAC), window and roofing service, maintenance and repair. Just download the FREE Repairman app using the link on our site or directly from the Google Play Store or Apple App Store.
All our Plumbers, Electricians, HVAC, Window and Roofing Pro's are licensed, insured and background checked by us for your peace of mind and convenience.
Request service now or schedule for later, enter job detail and upload pictures of parts. When your job is accepted, you get real-time notifications, and even get visual ETA as provider's navigates to your location. When connected you can communicate with Providers using secure call and text feature build right into the application.
Once the job is complete, sign-off on the invoice and pay right through the app using major CC or PayPal and go about you life, knowing that you now have your personal repairman dispatch, right in your pocket.