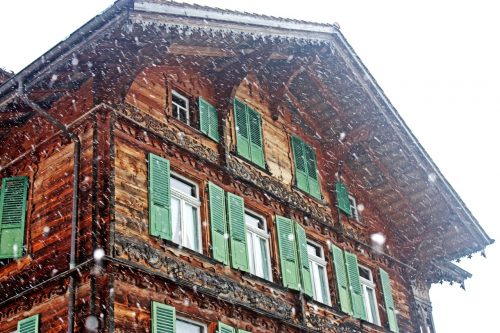 Drafty Window Solutions
Keep the winter wonderland outside!
The frigid winter season has it's perks. Hot tea and cozy sweaters aren't luxuries of summer weather. There are countless things to appreciate about our coldest season. That being said, when the sub zero air starts to penetrate into our homes, it is always most unwelcome. Windows and doors are key weak points where this tends to occur, especially in older homes. In the event that new windows and doors aren't in the budget this year, read on for tips and solutions to deal with those drafty windows.
Air Leak Testing:
Windy days make it easy to test for leaks. Close your windows tightly, and hold your hand around the edges of the windows to feel any slight breeze passing through.
Insulation Options for your Drafty Windows:
Temporary plastic wrapping is a very cost effective way to make it through a winter with less air leakage, however it is unsightly. It also needs to be installed with care, because the tape it adheres to has the possibility of damaging the wood or paint below. This truly should remain the most temporary of all solutions.

Rope caulk is a perhaps a more effective low-budget solution. Rope caulk is similar to putty. It comes in long strips that can be cut to size. It is easiest to get a good seal by installing it in the fall before temperatures drop to low. Soak it in lukewarm water for 30 seconds to make it more pliable and press into open cracks and crevices that allow a draft through. Note that rope caulk is useful year round because it can keep out insects and pollen in addition to cold air.

Insulated curtains and cellular shades are a viable option for reducing drafts in the winter time. Some even have thermal backing. Installation is easy and they are likely the most attractive draft reducer of this list.

Draft snakes are helpful for leaks underneath doors. If you are handy with a sewing machine, you can even make your own by splicing together a few tube socks, filling them with rice and sewing them shut. 
Completely replacing doors and drafty windows is obviously the most effective option for keeping cold air where it belongs. The large upfront cost will pay off in time. Your energy bill be indicative of this!
The type of windows that you have in your current home will depend on what upgrades and changes you make. Some of the various window types include bay windows, double hung windows, glass block windows, hopper windows and sliding windows, just to name a handful. There are also insulated windows, double glazed windows and gas-filled windows when it comes to the glass. Again, this is why it is important to consult with a window repair expert to find the right window types for your home.
To find a window repair expert in your area, check out the Repairman App today. You can also find the latest news and updates by signing up for our newsletter. And if you are searching for more home improvement topics and tips, you can learn more by reading the rest of our blog.
Download the FREE Repairman app from your favorite app store today and connect with professional service Providers near you!
(Available for iOS and Android)
Repairman App is the newest Colorado platform for on-demand licensed, insured and verified professional plumbing, electrical, heating and cooling (HVAC), window and roofing service, maintenance and repair. Just download the FREE Repairman app using the link on our site or directly from the Google Play Store or Apple App Store.
All our Plumbers, Electricians, HVAC, Window and Roofing Pro's are licensed, insured and background checked by us for your peace of mind and convenience.
Request service now or schedule for later, enter job detail and upload pictures of parts. When your job is accepted, you get real-time notifications, and even get visual ETA as provider's navigates to your location. When connected you can communicate with Providers using secure call and text feature build right into the application.
Once the job is complete, sign-off on the invoice and pay right through the app using major CC or PayPal and go about you life, knowing that you now have your personal repairman dispatch, right in your pocket.