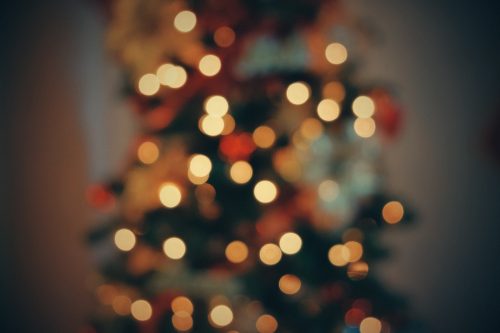 Holiday Lights
Spread holiday cheer while mitigating risks!
Though December is one of the darkest months of the year, many of us take part in traditions that traditions that bring dazzling lights to both the exteriors and interiors of our homes. Though our lighting techniques have come a long ways since the 17th century candle method, we should still keep certain things in mind when stringing holiday cheer up around our homes.
Select good quality lights. Opt for energy efficient bulbs like LEDs, and look for the UL (Underwriters Laboratories) logo somewhere near the plug. This means that the lights have been safety tested. Also ensure that if you are hanging lights outside, you have chosen outdoor lights. Indoor lights aren't equipped to deal with temperature and moisture fluctuations that December weather brings. If you notice any damaged lights, discard the string. You don't want to hang up a fire hazard. (Denver residents, check here for how to recycle your lights.)   
Hang smart! When hanging lights, don't nail holes in siding or roofing! Where insulated clips don't work, try using electrical tape as an alternative hanging method.
Avoid flammable trees. Consider buying an artificial tree, and if you do opt for a live one, get something fresh and keep it well watered to make it less flammable. When hanging lights on outdoor trees, make sure they are far away from power lines!
Be smart with extension cords. If you are using extension cords, use only three-pronged versions, and plug them into GFCI outlets. Not sure what a GFCI outlet is? Check out our post explaining them. Also be careful not to link more than two or three strings of lights together, as doing so could overload the circuit!
Use a timer for your lights. Make sure that your lights are off when you aren't home, or when you're sleeping!
Respect ladders! Use proper safety techniques when climbing ladders! According to the U.S. Consumer Product Safety Commission, there were an estimated 14,000 hospital-treated injuries due to holiday decorations in December 2015 alone. Place your ladder on solid even ground and have someone hold it for you. Wear appropriate shoes, and never climb higher than than the ladder specifies as safe. Most importantly, don't rush! Let the process of decorating be part of the holiday fun instead of a chore to rush through. May we suggest heading inside for the occasional hot chocolate break to warm up?
Don't forget that the licensed electricians with Repairman are happy to help with any holiday electrical needs you may have!
To find expert in your area, check out the Repairman App today. You can also find the latest news and updates by signing up for our newsletter. And if you are searching for more home improvement topics and tips, you can learn more by reading the rest of our blog.
Download the FREE Repairman app from your favorite app store today and connect with professional service Providers near you!
(Available for iOS and Android)
Repairman App is the newest Colorado platform for on-demand licensed, insured and verified professional plumbing, electrical, heating and cooling (HVAC), window and roofing service, maintenance and repair. Just download the FREE Repairman app using the link on our site or directly from the Google Play Store or Apple App Store.
All our Plumbers, Electricians, HVAC, Window and Roofing Pro's are licensed, insured and background checked by us for your peace of mind and convenience.
Request service now or schedule for later, enter job detail and upload pictures of parts. When your job is accepted, you get real-time notifications, and even get visual ETA as provider's navigates to your location. When connected you can communicate with Providers using secure call and text feature build right into the application.
Once the job is complete, sign-off on the invoice and pay right through the app using major CC or PayPal and go about you life, knowing that you now have your personal repairman dispatch, right in your pocket.