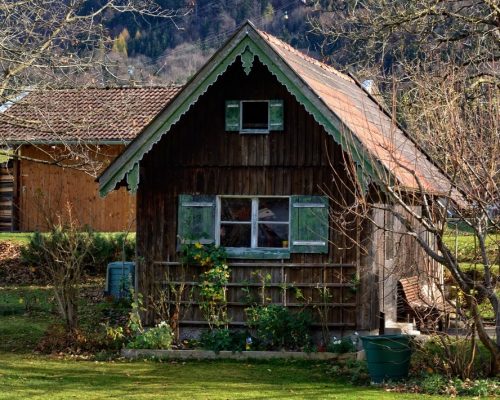 Don't Forget About your Shed!
Don't Forget About Your Shed!
Summer is FINALLY here. That means you can get outside and start working on all of those summer projects that come about this time every year. Sure, our home is the top priority when it comes to upgrades and improvements during this time of year — but don't forget about your shed!
The winter months can do more damage to your shed than you might realize. For this reason, your shed is an important piece of your property that needs a little extra attention every now and then. Take advantage of the nice weather and get your shed in shape.
Don't let your Shed Become a Neighborhood Eyesore
As a homeowner, it's easy to get caught up with all of the in-home projects that tend to flood our to-do lists. When this happens, we sometimes forget about the things that we cannot see on a daily basis — like our sheds! But a shed is an essential structure that represents you as a homeowner in your neighborhood. A decrepit shed will certainly lower your property value — and it's bound to get you a few ugly stares from your neighbors. And don't forget to check out the rest of our blog for more topics to help you maintain the outside appearance of your home.
Important Steps to Help Protect and Maintain your Shed
In order to make sure your shed is in good shape, you should do regular evaluations of the structure. We recommend doing a quick evaluation of your shed at least once a month. In the summer time, this is easy; however, be sure to keep this in mind for the winter months as well. Here is a quick list of things to check out during your evaluation:
Roof. Do a visual scan of your roof from the outside for possible damage due to any surrounding debris, such as tree limbs. And be sure to check the inside as well for any signs of possible leaks.
Siding. Again, this just takes a visual inspection to make sure there is no siding damage due to wind or debris.
Flooring. Many sheds are made up of wood flooring that can eventually rot over time. Carefully check the floor for any sagging floorboards; this is the warning sign of a damaged floor that needs immediate attention.
Windows. Make sure your shed windows are properly sealed to help control weather conditions. Shed windows also tend to break or crack after a harsh winter, and it's possible that they will need completely replaced.
Electricity. For those sheds with electrical hook-ups, simply check your light switches to make sure the power is running properly to the shed. If the electric is not working, check your electrical panel to see if the breaker has been tripped. Since most sheds deal with buried electrical lines, your best bet is to utilize a licensed electrician to handle any further issues beyond a tripped breaker.
When it comes to your roofing, siding, flooring, window and electrical needs, the Repairman App gives you easy access to the most trusted licensed professionals in these areas of expertise. Check out the app today to help get your shed looking good as new! For more news and updates, sign up here for our newsletter.
To find an expert in your area, check out the Repairman App today. You can also find the latest news and updates by signing up for our newsletter. And if you are searching for more home improvement topics and tips, you can learn more by reading the rest of our blog.
Download the FREE Repairman app from your favorite app store today and connect with professional service Providers near you!
(Available for iOS and Android)