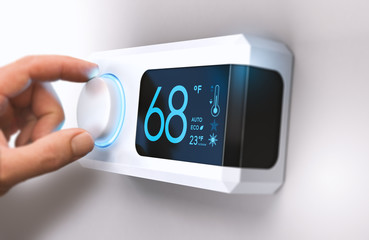 Keep Your Home Cool This Summer
The summer heat is here, there's no question about that. It's the perfect season to enjoy the great outdoors, along with a barbecue here and there. For us homeowners, it's also the time to make sure our homes are being properly cooled. Let's take a quick look at some the most important components that contribute to an efficient cooling system within your home.
AC Installation
We will start with the most obvious cooling component — the AC unit itself. Although it's obvious that you need an AC system to cool your home, many homeowners don't know where to begin with this process. Start by reaching out to an HVAC professional — an easy first step with the help of the Repairman app. Keep in mind, this is not a DIY project! An HVAC professional will analyze your home to plan out a system that best fits the layout of your home. It's a project that requires the work of an experienced HVAC professional.
AC Maintenance
For those who already have an AC unit in place, maintenance is usually the first place to start when it comes to proper cooling. Get a professional out to your home to analyze your system. If you notice that your home is not being cooled properly this summer, something is probably not working right with your system. While it could be any number of issues, an HVAC professional will be sure to track down the issue, leading you to a much cooler home this summer.
Energy Efficient Windows
Let's say everything is working fine with your AC unit; however, you still notice that your home is not cooling properly with the intense summer heat. That means your problems lie elsewhere. Bring out a window expert to evaluate your windows. You may have sealant issues that are letting in the hot outside air. You may also want to consider energy efficient windows. These types of windows make a huge difference in the cooling of your home. In fact, you will likely see drastic decreases in your energy bills once you have energy efficient windows in place.
Other Common Problems
There are some common issues that don't always relate to the physical AC unit itself. There could be a problem with your attic fans or a lack of attic insulation. If your attic is not properly ventilated, your home will struggle to cool down. You could also have an issue with your thermostat. We recommend upgrading to a new energy efficient smart thermostat. This investment is well worth it in the long run, as these thermostats properly control the temperatures within your home at the most efficient levels.
Download the FREE Repairman app from your favorite AppStore, or directly from the RepairmanApp website to connect with verified HVAV professionals and window experts to help keep your home cool this summer. And don't forget to sign up for our newsletter to receive all of the latest news and updates. For more valuable information to help you upkeep your home, check out the rest of our blog.
Download the FREE Repairman app from your favorite app store today and connect with professional service Providers near you!
(Available for iOS and Android)