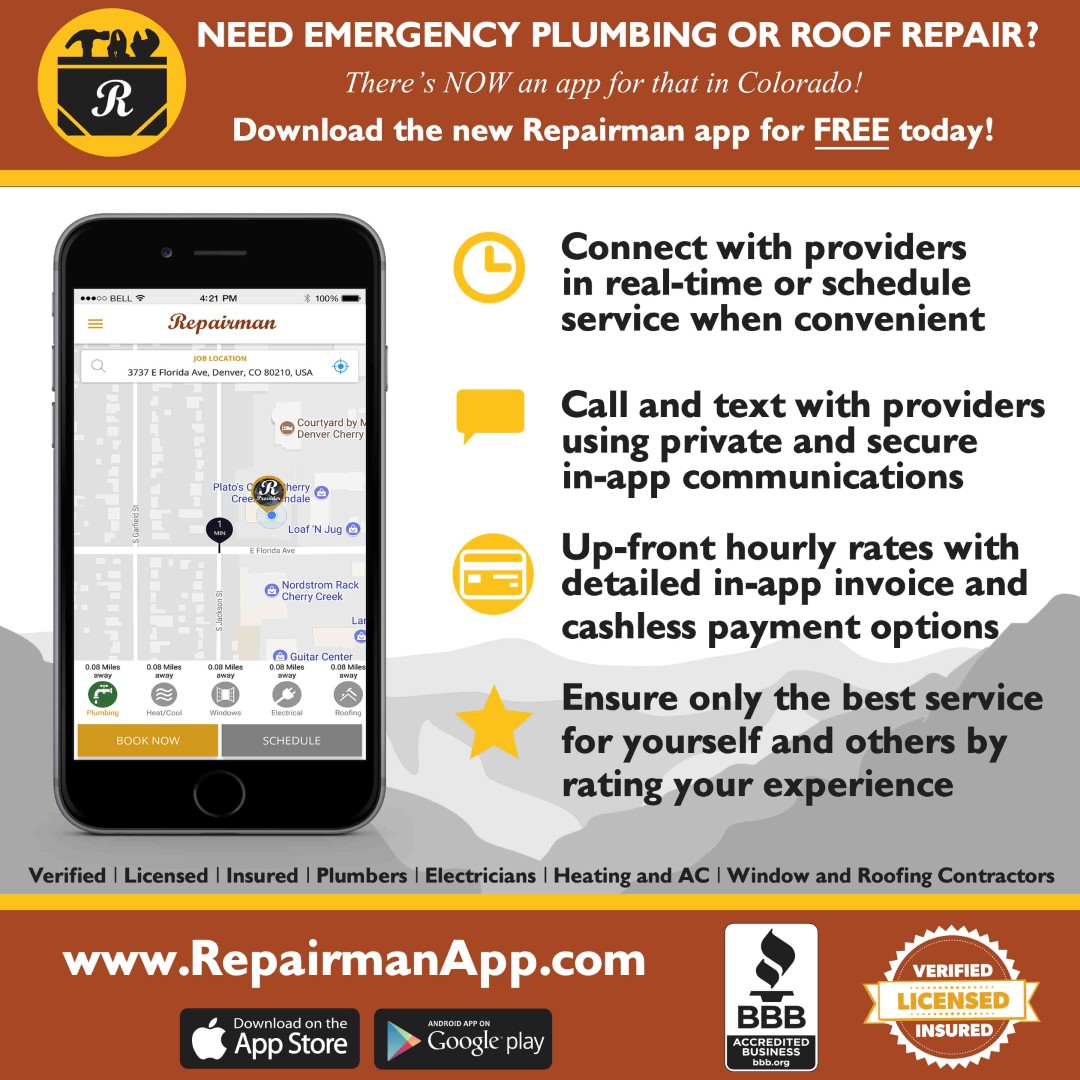 On-Demand Professional Home Service and Repair
Today's mobile technology has created a unique marketplace for the modern consumer. Advancements in smart phones and tablets have helped connect today's consumer to various products and services through the use of the many apps that are available. In other words, we live in an on-demand culture. According the Pew Research Center, the share of Americans that own smartphones is now 77% (that's up from 35% in 2011).
As a consumer, we are looking for the most reliable outlets to receive our products or services in a quick period of time. When it comes to home services – such as furnace or AC repair, window installation, electrical work, plumbing, or roofing – there's a growing need for on-demand access. As a homeowner, we often need access to licensed professionals for a variety of home improvement projects. Tracking down these professionals in the local area can be a challenge. This is where the Repairman app comes into play. Let's take a quick look at some of the features of the app and exactly how it can help you the next time you need professional help around the house.
Convenience: We will start with convenience because this is the main reason why we use all of those apps on our smartphones. A few taps of the screen can bring us to exactly what we need. The Repairman app uses geolocation to automatically locate the closest available plumber, electrician, roofer, window, furnace or AC repairman. The app will then contact them on your behalf to initiate the connection.
High Quality Services: Let's face it, not everything that you order from apps or other internet services comes with high quality. This is what sets the Repairman app apart from others. All professionals on the Repairman app are licensed, insured and background checked. All of the heavy lifting that normally comes with researching these professionals is already done for you. This means, you can rely on these professionals to carry out your work with the highest level of quality.
Cashless Payment: Most of us don't carry around cash anymore. This is one of the driving forces behind the successful use of apps. When you use the Repairman app, you can pay your service provider using PayPal or credit card upon job completion.
On-Demand: We circle back to the idea of an on-demand home services app. When you need to find a repairman in the Denver, Colorado area, the Repairman app makes this a simple process. With the Repairman app, you can describe the job and add pictures. A qualified home improvement provider can then privately communicate with you on the app. Next, you can track and prepare for their arrival. Once the home improvement provider arrives, the job is completed in a timely manner.
Download the FREE Repairman app from your favorite AppStore, or directly from the RepairmanApp website to start using this reliable, on-demand app for repair services that include plumbing, electric, HVAC, window repair, and roofing. And don't forget to sign up for our newsletter to receive all of the latest news and updates on all things Repairman App, based right here in Denver, Colorado. For more valuable information on home improvement projects around the house, check out the rest of our blog.
Download the FREE Repairman app from your favorite app store today and connect with professional service Providers near you!
(Available for iOS and Android)