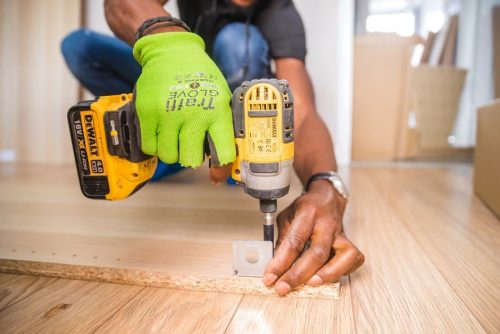 5 Things to Expect of Contractors on the Repairman App
Hiring a contractor to do work in your home can be an anxious experience for many homeowners. You don't always know what to expect. Every contractor has different procedures and approaches to doing a job. At the end of the day, you want to bring in somebody who can get the job done right, on time, and within your budget. These are the core values that most homeowners are looking for when they hire a contractor.
Fortunately, when you use the Repairman app, we have these attributes covered (and more). We have taken care of the heavy-lifting for you by making sure that the most qualified Denver, Colorado professionals are available to you through the Repairman app. Our unique home improvement app has various features to help you navigate you through your next home improvement project. These are features that you won't find with any other home improvement app in the Denver, Colorado area.
With all that said, let's take a look at five things you can expect from a Repairman app contractor.
Verified Licenses and Insurance Coverage (And Thorough Background Checks). Every individual who is enabled on the Repairman app (even if they are part of a company) is verified to ensure of the proper license and insurance coverage. Each person on the app also goes through a thorough background check. These verifications will give you peace of mind as you hire a contractor for the next project in your home. It also saves you the time and hassle it takes to ask and receive this information from each contractor that you may be considering.
No 'Bait and Switch' Games. We have taken estimates out of the equation; it's a bit of an old school mentality that doesn't favor the homeowner in most cases. Estimates tend to get inflated by the contractor where they hope to get your business first, and then find a way to increase the amount on the back end. This is never the case when working with a professional from the Repairman app.The experienced Repairman app providers will work on your project as long as it takes to get the job done (regardless of the size of the job) and the application keeps track of prorated hourly billing.
Full respect of your space. A good contractor will respect your property and follow any rules that you may have. Cleaning up along the way is also a great sign that your contractor cares about your home. Repairman app providers are complete professionals who will be sure to respect your home at all times.
Open Communication from Start to Finish. Major home improvement projects can often run into challenges from time to time. Your Repairman app contractor will keep you updated at all times. If an unexpected challenge arises in the work that is being done, you will be notified right away so that you have a complete understanding of what needs done to complete the job.
Payment is due after the work is completed. You can easily pay securely with a credit card or a PayPal account through the app when the job is complete. No more need to write out checks or keep loads of cash on you. For real estate agents and landlords, you can create a remote request provider without worrying about having to be on location to make a payment.
To easily connect with verified Denver, Colorado contractors in various fields such as plumbing, electric, roofing, windows and HVAC services, download the FREE Repairman app from your favorite AppStore, or directly from the RepairmanApp website. And don't forget to sign up for our newsletter to receive all of the latest news and updates. If you are looking for more insight on home improvement-related projects and further information on on-demand home services, be sure to check out the rest of our blog.
Download the FREE Repairman app from your favorite app store today and connect with professional service Providers near you!
(Available for iOS and Android)